The Modular Interlocking Ballistic Barrier System (MIB²S) defeats 50 Caliber BMG Armor Piercing Incendiary Tracer (APIT) ammunition and was designed for easy assembly, disassembly, and extreme durability.  The MIB²S is the ideal solution for creating a rapidly deployable (and re-deployable), and scalable ballistic barrier system for military and law enforcement training, operational and safety requirements.
SIMPLE, SCALABLE, SECURITY.

THREE THREAT RATED BLOCK TYPES
STRONG
HANDGUN BLOCK
Threat Level IIIA Modified / Abbreviated NIJ 0108.01, September 1985
Up to 44 MAGNUM Resistant
100% Polymer Construction
STRONGER
RIFLE
BLOCK
Threat Level IV Modified / Abbreviated NIJ 0108.01, September 1985
Polymer/Metal Construction
STRONGEST
.50 BMG BLOCK
Threat Level IV+ Special Threat 50 Caliber API-T Modified / Abbreviated NIJ 0108.01, September 1985UL 752 Level 10
Up to 50 Cal APIT Resistant
Polymer/Advanced Metal Matrix Construction
ENTRY CONTROL POINTS
VEHICLE CHECKPOINTS
MISSION ESSENTIAL VULNERABLE AREAS (MEVAs)
SAFE ROOMS
SHOOT HOUSE (INNUMERABLE FLOOR PLAN CONFIGURATIONS)
RANGE BACKSTOP, FIRINGLANE SEPARATION, RICOCHET CONTROL
GENERATOR AND CRITICAL EQUIPMENT PROTECTION
EXPLOSIVE ORDNANCE DISPOSAL (EOD) CONTAINMENT
SCHOOL AND WORKPLACE SAFETY
ACTIVE SHOOTER DETERRENCE
AIR-DROPPABLE FIGHTING POSITION
PERSONNEL PROTECTION IN NON-STANDARD VEHICLES (I.E. BOX TRUCK)
PROTECTION OF WETLANDS ADJACENT TO MILITARY RANGES
RESIDENTIAL PROTECTION FROM DRIVE-BY SHOOTINGS
AIRCRAFT SEPARATION IN HIGH-RISK AREAS
The objective of MIB²S is to provide a highly effective protective barrier for personnel, buildings, and other critical infrastructure in unlimited applications. The compound used in the MIB²S is a patented composite polymer material with a very high strength-to-weight ratio.  It is specifically designed to protect against ballistic projectiles, and conventional and improvised explosive devices. The self-healing compound absorbs and traps projectiles into itself.  The MIB²S does not degrade under attack, but rather gains strength from the resulting increase in density.  The MIB²S are easily assembled in the field without the need for specialty tools or formal instruction.   The MIB²S blocks are marked on top with their specific threat rating, and interchangeable.  The MIB²S blocks are also available in a variety of colors to meet your requirements (minimum orders are required for specialty colors).
U.S. ARMY MATERIEL COMMAND (AMC) T&E
-
MIB²S (12" thickness) was successfully tested by AMC against the following calibers and devices:
5.56 (M16) FMJ, HP, AP & Tracer
7.62X39 (AK-47) FMJ, HP, AP & Tracer
.50 BMG FMJ,API (Armor Piercing Incendiary)
All known handgun calibers
"Pineapple" IED fragmentary grenades
Other improvised explosive devices
U.S. AIR FORCE T&E
-
MIB²S (12" thickness) was successfully tested against the following calibers:
23mm API (36" MIB²S Thick, 3 Blocks)
MANUFACTURER T&E
-
MIB²S (12" thickness) was successfully tested against the following calibers:
M230 30mm Chain Gun (M788 TP)
M72A7 Light Anti-Tank Weapon (LAW)
MK-211 Raufoss (.50 caliber Anti-Materiel High-Explosive Incendiary Armor Piercing)
RPG-7 High Explosive Fragmentation
.50 Cal BMG API-T (Armor Piercing Incendiary Tracer)
USAF HIGH SPEED BALLISTIC IMPACT ANALYSIS
RAPID DEPLOYMENT DEMONSTRATION
INCENDIARY RESISTANCE DEMONSTRATION
LIVE FIRE DEMONSTRATION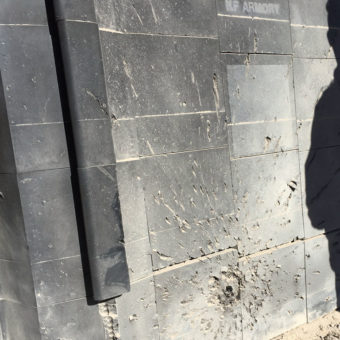 Cost:  Please reach out to our staff for a specific quote based on your threat level, order size, and shipping requirements.
NOTE: The weight of the NIJ Level IIIA and Level IV blocks are comparable to a SWAT entry shields of the same rating.  There are no .50 BMG SWAT shields currently on the market. Custom threat levels are available. Please contact our staff if you have any specific needs in mind.
KF Armory, LLC is the sole source distributor for MIB²S.
Please contact us at info@kfarmory.com or (678) 990-3038 for acquisition information.