You asked for it. A lightweight, rifle-rated armor plate solution. This Level III Body armor plate was created specifically to fit 10″x12″ plate carriers, the shooters cut fit makes it fit into almost any 10 x 12 plate carrier. We stand behind it with a 15 YEAR WARRANTY (Triple the industry average).
Special Threat Tested against the following calibers at a distance of 15 meters:
7.62×39 123gr PS Ball (MSC)
7.62×51 147gr FMJ (M80) – up to 2850 ft/s
5.56×45 55gr (M193) up to 3150ft/s  *This plate is not rated to stop M855
FEATURES
Made in the USA
NIJ certified
15-year warranty
Multi hit capable
Only weighs 2.8 lbs
UHMWPE
Incident Replacement
NIJ Standard-0101.06 Level III Certified
Stab and slash-resistant
Body armor is legal to own in all 50 states (but we cannot ship to the state of Connecticut as all body armor sales must occur in person)
SPECIFICATIONS
SIZE 10″x12″
WEIGHT 2.8lbs
THICKNESS 0.75″
CONSTRUCTION Ultra-high-molecular-weight polyethylene (UHMWPE). Finished with a Polyurea outer covering for abrasion and moisture resistance. Polyurea finish can slightly vary in appearance. This has no impact on the ballistic capability.
SHAPE Shooters Cut for comfort when shooting//moving.
KF Armory, LLC assumes no liability for the use or misuse of any product sold, donated, given, or loaned, including but not limited to any incidental or consequential liability or damages. Except for the Manufacturer Warranty when applicable, ALL WARRANTIES, INCLUDING THE IMPLIED WARRANTIES OF FITNESS AND MERCHANTABILITY, ARE HEREBY EXCLUDED. No oral agreement or warranty of any kind shall be binding upon KF Armory, LLC unless it is given in writing and signed by KF Armory, LLC. Statements, images, or descriptions of products are for informational purposes only and are not made as a warranty related to a specific product in any way. KF Armory, LLC disavows any other representation, warranty, or liability related to the condition or use of the items sold. KF Armory, LLC is not liable for any consequential damages related to the ordering, use, or misuse of its product. Any liability is limited to specific performance of repairing or replacing defective items. Every item manufactured and sold by KF Armory, LLC is sold "as is" and "with all faults." The entire risk of quality and performance of the product is with the buyer.
Level III Rifle Rated Plates fall under the jurisdiction of the U.S. Department of Commerce's Bureau of Industry and Security (BIS) and are administered under the Export Administration Regulations (EAR). Export of Level III Rifle Rated Plates are subject to the export control laws and regulations of the U.S. Government. Export or retransfer of Level III Rifle Plates requires the written approval of the U.S. Department of Commerce. The sale, transfer, transportation, shipment, or export of any product outside of the U.S. that is prohibited or restricted without complying with U.S. export control laws and regulations is strictly prohibited. Violation of such laws and regulations may result in civil penalties and/or constitute a federal crime. KF Armory, LLC complies with export control laws and will not participate, engage, or contract for any transaction that requires the illegal export of any product. KF Armory, LLC will not assist, directly or indirectly, with the illegal export or re-export of any product. The customer is responsible for complying with any import laws or regulations, including paying all duties, taxes, and fees when applicable.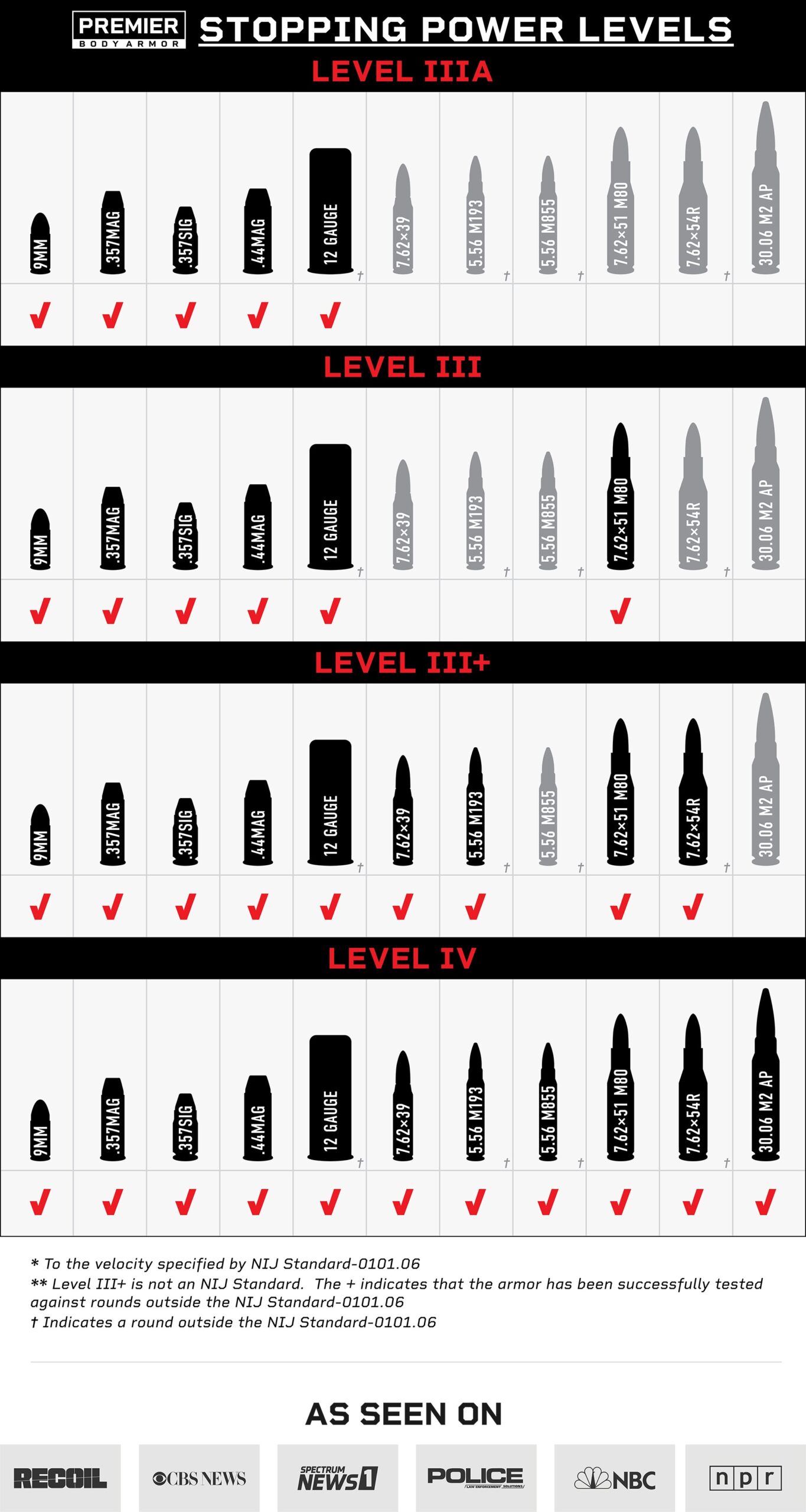 Premier Body Armor's Level III+ Special Threat Plate 10×12 Shooters Cut, NIJ0101.06 Level III multi hit 3.2lbs .95″ thick, 7.62×39 123gr PS Ball (MSC), 7.62×51 147gr FMJ (M80) up to 2850 ft/s, and 5.56×45 55gr (M193) up to 3150 ft/s. This will NOT STOP M855.